https://www.thetimes.co.uk/article/irish-children-buried-in-mass-grave-at-scottish-orphanage-5l6wdc38h
HUNDREDS of children's bodies from Smyllum Park Orphanage have been discovered in a mass grave.
At least 400 youngsters were buried at St Mary's Cemetery in Lanark, southern Scotland, close to where they were cared for at the home – but what do we know about Smyllum Park Orphanage so far?
Where is Smyllum Park Orphanage?
Smyllum Park Orphanage was opened in 1864 at Smyllum Park in Lanark, Lanarkshire, Scotland.
The institution was run by a Catholic order of nuns and housed 11,600 children aged between one and 14 years old, including those who were blind or deaf-mute, before it closed in 1981.
Decades later an unmarked mass grave was found at nearby St Mary's Church in Lanark which is just a three-minute drive away from the care home.
The orphanage is now being examined by the Scottish Child Abuse Inquiry into historical allegations of the abuse of children in care.
When were the mass graves discovered?
At least 400 youngsters' bodies were found at the burial plot by two former residents of Smyllum in 2003.
Frank Docherty and Jim Kane uncovered the overgrown, unmarked section of St Mary's Cemetery as they campaigned to expose physical abuse which was allegedly suffered by former residents.
A year later they were told by the orphanage founder, Daughters of Charity, that children had been buried in 158 compartments in the graveyard.
Records show that most of the children had died of diseases like pneumonia, tuberculosis and pleurisy.
But Frank and Jim, who both died earlier this year, were adamant that more children were buried there, accusing the nuns of "incomplete records".
An investigation by BBC's File on 4 and the Sunday Post revealed at least 400 children were buried in the plot.
A third of those who died were aged five or under. Just 24 in total were aged over 15, and most of the deaths occurred between 1870 and 1930.
Who are the Daughters of Charity of St Vincent de Paul?
The Daughters of Charity was a group founded by French priest Vincent de Paul and widow Louise de Marillac in 1633.
They worked to establish homes for orphaned children, run hospitals, work in prisons and help the poor in Paris before expanding their work across France.
It began to open establishments in the 1800s when it took charge of St Joseph's Reformatory for Girls near Sheffield in 1861.
Smyllum Orphanage was launched in 1964 – the Daughters of Charity's first presence in Scotland.
But by the 1980s, all of its children's residential establishments in Britain were shut down.
https://www.thesun.co.uk/news/4436539/smyllum-park-orphanage-mass-graves-discovered-daughters-charity-st-vincent-de-paul/
Sunday 10 September 2017 15.17 BST
Hundreds of Scottish orphanage children allegedly buried in mass grave
High infant mortality rate and allegations of abuse raise suspicions of Smyllum Park in Lanark, once run by Catholic nuns
The Scottish child abuse inquiry is to investigate claims that the bodies of at least 400 children from a home once run by Catholic nuns are buried in an unmarked mass grave.
The high infant mortality rate has raised concerns about conditions at Smyllum Park orphanage in Lanark, which was operated by the Daughters of Charity of St Vincent de Paul.
Mass grave of babies and children found at Tuam care home in Ireland
The institution, which looked after children from broken homes, opened in 1864 and closed in 1981. More than 11,000 children stayed at the orphanage over that period.
Records reveal that most of the deaths were due to natural causes, mainly from diseases such as TB, pneumonia and pleurisy. About a third of the victims were under the age of five, and the majority of the deaths occurred between 1870 and 1930.
Former residents of the orphanage uncovered a burial plot containing the remains of a number of children at nearby St Mary's cemetery in 2003.
Frank Docherty and Jim Kane, who both died earlier this year, alleged that many of those who passed through Smyllum Park were subjected to physical abuse, including beatings, punches and public humiliations. Both men also believed that the number of deaths was far higher than the 120 previously acknowledged by the Catholic order.
An inquiry by BBC Radio 4's File on 4 and the Sunday Post newspaper examined death certificates in archives and found 402 children from Smyllum Park. Only two were found to have been buried elsewhere. The remainder are thought to have been laid to rest in St Mary's cemetery, a mile away from the former home.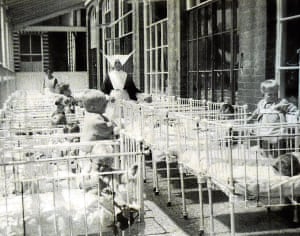 Smyllum Park orphanage opened in 1864 and closed in 1981. 
The recorded death rate, according to the reports, is calculated to have been, in some periods, around three times the average for children in Scotland.
The suggestion that children were put into an unmarked mass grave echoes the public outcry over the recent discovery of the remains of 800 babies and children at a former Catholic care home in Tuam, in the west of Ireland.
Like Tuam, the row over what happened at Smyllum Park focuses not only on the way in which children were buried but the supposedly strict, punitive regime said to have been operated by nuns.
One of the deaths recorded at the Scottish orphanage is that of Francis McColl, who died in 1961, aged 13. His death certificate indicates he died from a brain haemorrhage. His brother Eddie had heard that he was struck on the head by a golf club. He has told researchers that he was never able to find any trace of where his brother was buried.
Two representatives of the Daughters of Charity of St Vincent de Paul gave evidence to the Scottish child abuse inquiry earlier this summer. They said they could find no records of abuse. The nuns declined to comment on how many people were buried in the mass grave.
In a statement given to the BBC last week, the order said they were "cooperating fully" with the child abuse inquiry and believed that was the "best and most appropriate forum for such investigations".
They said: "As Daughters of Charity our values are totally against any form of abuse and thus, we offer our most sincere and heartfelt apology to anyone who suffered any form of abuse whilst in our care."
The order has been granted the status of core participant in the inquiry, which is expected to hear evidence about its homes at a hearing in November.
The Scottish inquiry – which is only investigating the provision of residential care – is more narrowly focused than the independent inquiry into child sexual abuse in England and Wales.
A spokesman for the Scottish inquiry confirmed that the allegations surrounding the mass grave at Smyllum Park would be one of the subjects it examined.
A spokesperson for the Catholic church in Scotland said the Daughters of Charity operated as a separate organisation. "The death of children in care is always tragic," the spokesperson said. "Any suggestion that the deaths of some children were caused by anything other than natural causes should be investigated to the fullest extent possible.
"The Catholic church has never had any responsibility for or ability to place children in care: that has always been and remains a matter for the statutory authorities who placed children in care and were subsequently responsible for their welfare."
The spokesman said local priests had participated in services held at the graveyard in memory of children from Smyllum Park orphanage buried there.
White Flowers Alba, a victims group that has helped the investigation into Smyllum Park orphanage, said: "The true scale of the horrors of Smyllum long hidden by the Roman Catholic church are only being now revealed.
"This is a horror we have worked for over number years to have exposed, spending many hours in harrowing interviews, providing support & care for those still suffering today from what they witnessed & experienced. White Flowers Alba is facilitating support for those affected by this tragedy."
A spokesperson for the Scottish Child Abuse Inquiry said: "For many months, the Inquiry has been gathering evidence from survivors and a range of other witnesses and continues to do so…. On November 28 the first case study of the hearings will begin. It will consider the Daughters of Charity of St Vincent de Paul." https://www.theguardian.com/uk-news/2017/sep/10/smyllum-park-lanark-orphanage-catholic-nuns-children-mass-grave-allegedly     https://archive.is/iVtMg
---
Bodies of 'hundreds' of children buried in mass grave at Scottish orphanage http://www.telegraph.co.uk/news/2017/09/10/bodies-hundreds-children-buried-mass-grave/     https://archive.is/U4KjW    
Young boy aged 6 killed by nun  https://www.thescottishsun.co.uk/news/655029/young-boy-aged-six-killed-by-nun-at-lanark-orphanage-in-1964-former-resident-claims/
Aangirfan. http://aanirfan.blogspot.co.uk/2017/09/orphans-murdered.html?m=1
---
LINKS WITHIN ARTICLE
https://stv.tv/news/west-central/1397441-hundreds-of-orphanage-children-buried-in-mass-grave/    https://archive.is/FR11w