10 Unbelievable Secret Places Google Earth Doesn't Want You To See
National secrets, shady government areas and southern fried chicken: all of these and more have been edited out of existence…
9. Volkel Air Base, The Netherlands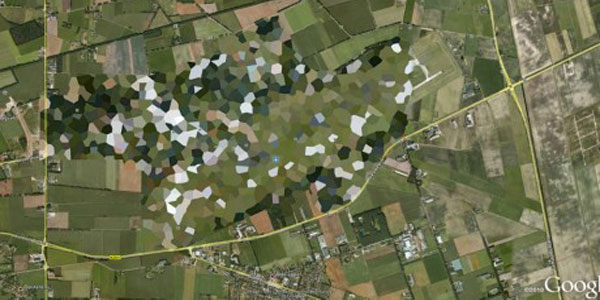 An air camp wonderfully transformed into a pixelated work of art, how creative. This intentional glitch hides a dark secret that former Dutch Prime Minister Ruud Lubbers implicitly confirmed last summer: there are 22 US nuclear bombs stored in the bunkers of this airbase: B61 thermonuclear bombs (the primary weapon in America's post-Cold War 'Enduring Stockpile'), and a worrying device four times as powerful as the bombs used on Hiroshima and Nagasaki in 1945. Wikileaks published a diplomatic cable that confirmed the presence of nuclear warheads at this base in 2010, but it had never been officially confirmed until the former prime minister let the military secret slip. He told a National Geographic programme: "I would never have thought those silly things would still be there in 2013. I think they are an absolutely pointless part of a tradition in military thinking." Woops. In the eternal words of Bob Ross: 'Ever make mistakes in life? Let's make them pixels. Yeah, they're pixels now.'
8. Baker Lake, Nunavut – An Extraterrestrial Beacon?
This zoomed-in screenshot shows a location in the Inuit nation of northern Canada, which, according to Dr Richard Boylan, shows a blacked out area hiding the location of an extraterrestrial beacon. The purpose of these beacons is to facilitate navigation and position-finding across the galaxy. The 30-mile-long black rectangular Beacons are surprisingly similar to 'Monolith' in Space Odyssey: not a coincidence, since the creator of the movie and novels Arthur C Clarke was a CIA asset and explorer. Snowy locations are best for these Beacons, which exert powerful electromagnetic field to disrupt the Earth's grids. Whether you believe it or not is a different matter.
7. Pacific Northwest, USA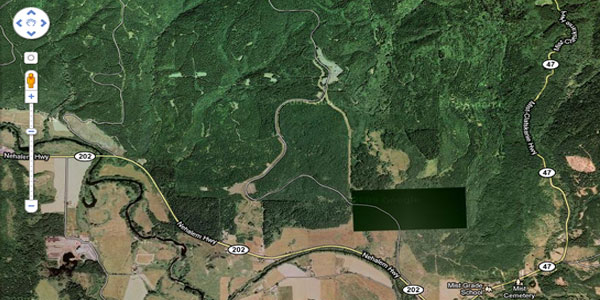 This one will unnerve you: the site on the map is close to the Washington-Oregon border and is rumoured to be in coordination with FEMA and HAARP. So what exactly are we seeing here? Or rather, what are we not seeing? HAARP (High Frequency Active Auroral Research Program) is one of the most controversial operations currently active in the United States, and subject to numerous conspiracy theories. Hidden motives behind the project have been speculated: blaming it for triggering floods, droughts, major power outages and earthquakes in Iran, although evidence for this is very minimal. Regardless, readers of Alex Jones' Prison Planet inspected the site in person: all they found was an ominous fence and an unmarked entrance.
6. Mysterious Russian Site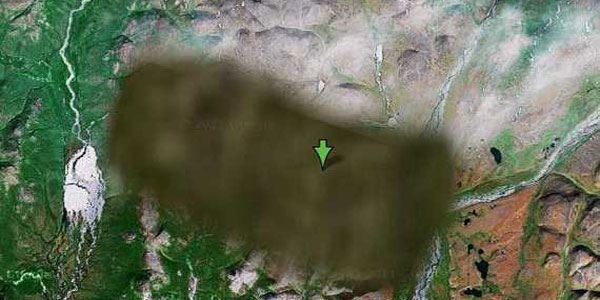 No one knows why this location in Russia was so thickly blurred out: it's amongst the Siberian tundra and the closest city is Egvekinot, Russia; neighbour to Alaska across the Bering Strait. In 1986, Russians were officially told that there were dozens of of closed cities and towns all over the country, with more than one million people living in them. What is most unsettling is the fact the cities had mysterious numbers attached to their names: Arzamas-16 (the home of the nuclear engineers who put an end to America's nuclear monopoly), Krasnoyarsk-26, Tomsk-7… the list goes on. Could this hidden tundra have anything to do with Russia's secret cities?
5. Szazhalombatta Oil Refinery, Hungary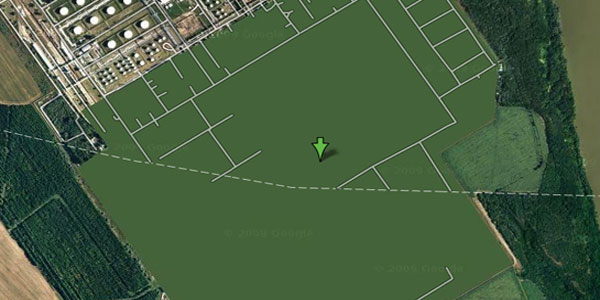 Strangely, this looks more like a Super Mario game than an oil refinery. An odd case indeed, this Hungarian oil facility requested to have their location simply rendered green; buildings are gone, grounds are deleted and we're left with a confusing act of censorship. What makes this case even more unusual is the fact you only have to check the location using a different map provider and it's there for all to see, looking exactly the same as the visible parts of the facility – pipelines, storage tanks, production facilities on show. So what exactly is this green block hiding? Or protecting?